Swimming Pool Enclosures – a good Idea?
Different than an automatic pool cover, a swimming pool enclosure allows you to use the pool while it is protected from the elements. If you have been considering a way to cover the pool area but still be able to use the pool and patio.
In this post we are taking a closer look into the world of swimming pool enclosures.

Benefits of a swimming pool enclosure
A pool cover is different than a pool enclosure. You can't use the pool when it's covered by a conventional cover, and that's what makes a pool enclosure different, and in most cases, better.
Some of us want to have the pool and patio areas protected from the elements.
Others want to keep all of the debris out of the pool making it easy to clean.
Many of us want a way to extend the usability of the pool all throughout the year.
… and most of us want all of the above!
Turns out there are several types of swimming pool and patio covers & pool enclosures on the market that can address all of these concerns in their own way.
Pool, patio and spa enclosures give you convenience:
Do you want to enjoy being able to swim at almost any time during the year? A poly-carbonate swimming pool enclosure will allow you to take a warm dip or keep up with your swimming routine even when it's 32 degrees outside.
Control the environment inside of the enclosure
Extended your swimming season or Swim All Year!
Use your patio or swimming pool even in bad weather (simply slide the segment to enclose it)
Slide your enclosure off the pool or patio in hot days (let the pool or terrace breathe)
Prolonged use plus extra storage, planting or exercising space
Retains thermal comfort even on colder days (special design keeps the warmth within the enclosure)
Save on heating your pool or patio (it is one of the main features of enclosures – polycarbonate filling creates a "Greenhouse Effect")
Minimize heat loss through the night (pool and patio enclosure has this special feature)
FULL LIST OF POOL ENCLOSURE BENEFITS HERE
Do you want a clean pool at all times, even after a storm? A screened pool enclosure will protect your pool from the surrounding trees and dust, reducing your pool maintenance and cleaning to the bare minimum.
Pool, patio and spa enclosures provide safety:
Do you worry about children wondering off into the pool area when you're not around? Both pool covers and pool enclosures provide the peace of mind knowing that your pool is locked up when otherwise accidents can happen.
Do you want to swim longer without getting sun burned? Both a screened or poly-carbonate pool enclosure will reflect much of the harmful rays and heat from the sun. A pool enclosure offers the maximum amount of shade and protection against the sun.
VIEW ALL FEATURES OF POOL ENCLOSURES HERE

Different types of swimming pool enclosures:
We are talking pool enclosures that don't have to be removed before using the pool, these pool enclosures create a protected outdoor pool & patio area worth spending some time within.
The most popular enclosures that offer these conveniences are:
Either of which is built upon an aluminum framework around the pool area, and can be adapted to just about any architectural layout, and even built as detached from the main house as free-standing structures.
Choosing the right type of pool & spa enclosure
Screened pool enclosures
Screen enclosures are typically made entirely of aluminum material. Lightweight and durable, swimming pool screen enclosures can have many useful benefits. This usually comes down to the individual homeowners' preference since this is not necessarily the best idea for all swimming pools. dengarden article
Advantages Screened Pool Enclosures
UV protection
Reduced pool water temperatures
Keeps debris out of the pool
Disadvantages Screen Pool Enclosures
Breaks easily
Rain still gets you wet
Can't control the temperature
Does not block the wind
Can obstruct views
Polycarbonate swimming pool enclosures
The swimming pool and spa enclosures are fitted with 8mm or 10mm thick polycarbonate panels (solid, twin-walled or triple-walled). There are four colors of transparent/translucent polycarbonate panels available: clear, light blue, milky, and brown. Customers often choose 4mm thick solid polycarbonate panels which have clear-glass optical properties. pool spa enclosures

The retractable glass pool enclosure solution
A glass pool enclosure is actually made from polycarbonate, which is made to look like glass. One of the best advantages to this type of pool enclosure is that it often will not obstruct great views beyond the pool.
High level of sound damping
Impact Resistance
Excellent Weather Ability
Fair Abrasion Resistance
Excellent Temperature Resistance
Good Chemical Resistance
Excellent Degrees of Light Transmission
Flammability Resistance
Excellent Visibility
High UV resistance
Having the ability to open up your pool enclosure is an extremely convenient feature. When the weather is good open the panels, and if it rains you can keep on swimming – just close the panels back again!
Swimming pool enclosure Ideas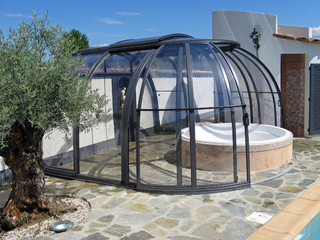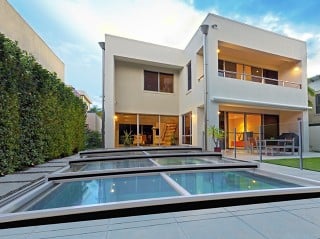 Retractable patio enclosures – Not only for the pool
Patio & porches
Sunrooms
Outdoor Ktichens
Are swimming pool enclosures worth the expense?
In our opinion, yes, swimming pool enclosures are worth the investment. From the practical sense to the memories you will enjoy it just makes sense to enclose your pool.
In the long term, you will save money that would have gone into things like chemicals and pool repairs that if you had installed a pool enclosure would not be spending so much on.
Just being able to use the pool all year long regardless of the temperature (with the polycarbonate version) is totally worth the money.
Retractable swimming pool enclosures near me
If you're ready to take the next step, we can help locate the qualified pool enclosure specialist to help in your area.
Please complete the below contact form to obtain a pool enclosure quote. Please write as much information as you can to narrow your quote and attach a photo if available.